How to sell your domain name in 2022.
Selling a domain name can be done in several different ways, including listing the domain for sale on the domain's website, using Domain Auctions, or working with a domain broker.
If you want to list your unused domain for sale on your website, you will need to create an advertising page that describes the domain and its features.
Or you could just be somebody that wants to try domain flipping, this blog goes over the best ways to sell your name.
How to sell your Domain name: Domain name sales.
This may include information about how much traffic the domain receives and its search engine ranking, as well as any additional features it may offer.
You should also provide clear instructions on how potential buyers can get in touch with you to purchase the domain.
Another option is to use Domain Auctions, which are online marketplaces where domain owners can sell their domains directly to potential buyers.
These auctions typically take place over a period of several days or weeks, and are open to both domain owners and those looking to purchase domain names.
If you are interested in working with a domain broker, they can help you find buyers for your domain and handle any negotiations or paperwork on your behalf.
A domain broker will typically charge a commission based on the total value of the domain sale, so it is important to do your research and find a reputable broker that offers fair prices.
Ultimately, there are many different ways to sell a domain name, depending on your needs and preferences.
Whether you choose to list it yourself or work with a domain broker, just be sure to carefully consider all of your options before making any final decisions.
Strategies for selling your domain name.
Looking to sell a domain name? Whether you are looking to list it yourself or work with a domain broker, there are many different strategies and tips that can help you make the most of your domain sale.
In this blog, we will explore some of the key considerations for selling a domain, including how to find potential buyers, maximize your domain's value, and choose the right marketplace for your domain.
Whether you are just starting out in the world of domaining or have been selling domains for years, this blog is here to help you navigate the world of domain selling with ease! So read on to learn more about how to sell a domain name today.
Determining domain valuation for sales price.
The first step to selling your domain is to determine the worth of your domain, the starting price, the desired reasonable price you want and the minimum price you would sell for.
The worth of your domain name will determine where you sell it and what price you sell it for.
There are several factors that can affect the value of your domain name, including its age, traffic metrics, popularity on social media sites like Twitter or Facebook, and the number of competing domains that use the same name.
The age of the domain name will also effect the price, as older domain names have reputation and have possible already been high ranked.
Related: Read the top
Domain appraisal tools to check a valuable domain.
Domain appraisal websites are valuable tools that can help you to accurately value your domain.
These tools look at various factors, such as the length of your domain name and the domain extension. For example, a short, spelt-correct domain name is typically more valuable than a long and difficult-to-spell one.
A .com domains are generally considered to be the most valuable, so they are well-worth considering when valuing your domain.
Domain appraisal tools use a number of different factors to help you determine the value of your domain, such as its length and extension.
For example, shorter, more straightforward domains tend to be more valuable than longer and more difficult-to-remember ones.
Here is were you can go to get a quick domain appraisal, keep in mind it may not be the most acurate but will give you a good idea.
1. Estibot
2. GoDaddy free appraisal tool
Using a domain name broker to accurately check the value of a domain name.
Domain appraisal can be a valuable tool when trying to determine the value of a domain name.
One approach is to use an expert opinion, and there are many trusted domain brokers who can provide expert appraisals of your domain.
To begin, you will need to choose a broker that you trust and feel comfortable working with.
Related: Read top 5 domain brokers in 2022 to find the best broker for you.
There are many factors that can influence the value of a domain, including its length, extension, and popularity. Ideally, you will want to select a broker that has experience working with similar domains or businesses and understands the key drivers of domain value.
The broker will then use their expertise and experience to assess the value of your domain, providing you with valuable insights that can help guide your decision-making process.
Domains are online real estate and should be valued correctly for you to get the best price when selling it.
You can also reach out to a domain broker as a professional appraiser.
This method will be more accurate than using a website because of their professional experience in the domain space.
Where to sell your domain name after you priced it?
If you want to sell your domain name, there are a few key factors you need to consider.
First, is your domain name premium or generic?
If it is a high-quality, shorter domain name with significant traffic coming to it, then you may not need to use an auction site or a broker to help you sell it.
However, if your domain name is more generic or has lower value, then you may need to turn to a domain name auction site or a domain broker.
One of the most popular and trusted options for selling premium domains is DNX.com.
This platform allows you to list your domain name and connect with potential buyers directly, allowing you to negotiate the best price for your domain.
Alternatively, you may want to try out an auction site like Sedo or Flippa, or GoDaddy domain marketplace which can help you reach a wider audience and create competition for your domain name.
Regardless of which method you choose to sell your domain name, it is important to do your research in order to get the best possible price.
Consider things like the domain's popularity, traffic stats, and length to get a sense of its value and how it compares to other similar domains.
With the right preparation and strategy, you can sell your valuable domain name for top dollar.
Sedo Domain Auction site.
Selling your domain name through domain auction site events like sedo is a great way to get exposure and maximize the value of your domain.
With sedo, you can list your domain for sale to a wide range of potential buyers and connect with other industry professionals who are interested in buying or selling domains.
Whether you are looking to sell quickly or hold out for a higher price, sedo has the tools and resources you need to make your auction as successful as possible.
Sedo is one of the leading platforms for domain name auctions, offering a wide range of tools and features to help you list, market, and sell your domains.
From their robust analytics and reporting capabilities to their intuitive listing interface and cutting-edge auction technology, sedo makes it easy to promote your domain name to a large network of potential buyers and get the best price possible.
One effective way to sell your domain name is by using a flippa Domain Auction. Flippa is a popular site that hosts online auction events specifically designed to help you sell your domain names quickly and easily.
With Flippa, you can set up an auction listing for your domain name in just a few simple steps. First, you will need to provide basic information about your domain, such as its age, current traffic metrics, and other important details.
Then, you can choose how much time you want the auction to run for. You can either set a set number of days or go with a longer duration like 2 weeks or 1 month. This gives potential buyers ample time to evaluate and bid on your domain.
Domain names are valuable assets, and selling them can be a lucrative way to make money online.
If you want to take advantage of the auction market for your domain names, you need to use a service like GoDaddy that specializes in domain registrar, hosting domain name auctions.
GoDaddy auctions attracted many buyers and sellers every year with millions of dollars in transacations. These auctions are typically held online, making them accessible to anyone with an internet connection and a bit of experience in buying and selling domain names.
To get started with using GoDaddy as your platform for auctioning off your domain names, you will need to create an account on their website. This is a simple process, and you will typically be required to provide some basic contact information as well as a method of payment.
Once your account is set up, you can begin listing the domain names that you want to sell. You can enter details about each individual domain name, including its estimated value and any specific requirements or conditions that you may have.
Depending on the auction event, there may be different rules and guidelines to follow. For example, some auctions are open only to members of GoDaddy's premium auction service, while others will require that you meet certain minimum requirements in terms of the number or value of domain names that you want to list.
Domain name brokers to sell your domain name.
Whether you have a high-value or low-value domain, using a domain broker can be the best way to get top dollar for your top level domain name.
Domain brokers are experts at finding potential buyers and connecting sellers with the right buyers.
They have direct access to decision makers within companies, and they know how to market and sell your domain name effectively.
Domain brokers work with a wide range of premium domains, so they can help you get the most value for your particular name.
Whether it's a short one-word domain or an entire website portfolio, a domain broker can help you find the right buyer at the right price.
If you're looking to sell your premium domain name, consider working with a domain broker to get the best.
With their expertise and connections, they can help you maximize your return on investment and sell your domain quickly and efficiently.
A broker will also help you in the transfer process, guiding you through legal paper work to sign, and assisting you in the escrow service process.
With a broker you will be paying a commission fee but consider the return on investment you will be getting and the value they bring with getting you the best sale price possible.
Related: Read the top 5 best domain name brokers to sell your domain name.
Domain name investors.
Most domain brokers will know many domain investors that could be interested in your domain name.
You will almost never here about these domain transfers with investors because of NGL's.
Investors will usually go after high-value domain names buy them, and either hold out for the perfect buyer or sell them on them through brokers.
When looking for a broker, possibly look for a broker with thousands of connections, this will maximize your chances of them connecting you to a domain investor interested in your name.
Use an Escrow.com service for all transactions.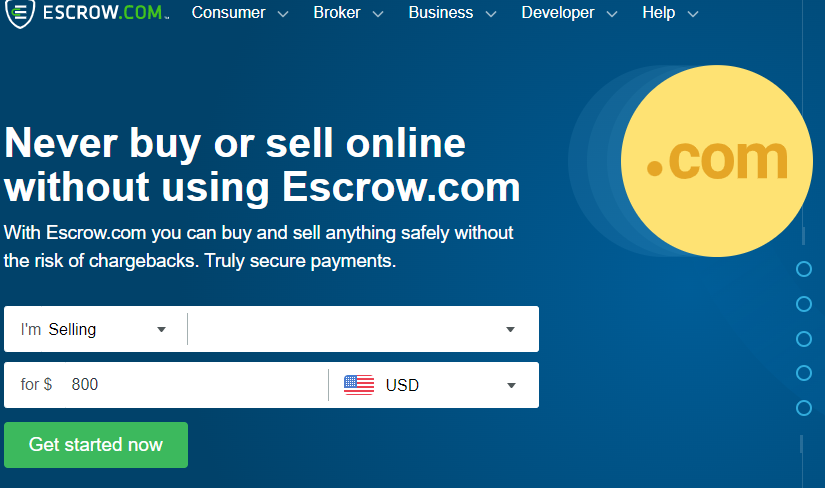 Escrow company is a trusted and reliable escrow service that makes sure your domain transactions go smoothly and without any complications.
Whether you are selling or buying a domain, using an escrow service like escrow.com can help give you peace of mind and protect you from getting scammed.
With its trusted reputation among the domain community, escrow.com is the best way to ensure that your domain transactions are safe and secure.
So if you're looking to buy or sell a domain, be sure to use escrow.com to make the process easy and worry-free.
A domain name broker will be able to help you get set up with escrow.com and walk you through the process, so you can feel confident in your domain transactions.
Summary

There are many ways to sell your domain name and get the best price.
Using domain name auctions
Dnx.com to sell your domain premium one word domains.
Flippa, best for lower priced domains.
Sedo, great domain auction site, best for selling anything 2k-30k.
Godaddy domain auctions and brokerage.
Use a domain broker to get the best deal for selling premium domains.
Always use Escrow process to transfer your domain.